Mission
Spectrum Community Services, Inc. provides quality and individual services to persons with disabilities to achieve greater independence and enriched quality of life.
Our Vision
Our vision is to continue to improve our services and supports which focus on an individual's unique needs, expressed preferences, and decisions concerning his or her own life.
History
Spectrum Community Services, Inc. was originally founded in 1979 by a group of parents who were looking for some type of living arrangement for their grown children with intellectual disabilities. At this time the agency was known as CCCLA or Carbon County Community Living Arrangements. The agency was very small and served about 17 adults with intellectual disabilities in community homes and lifesharing homes exclusively in the southern half of Carbon County. In 1993 our current President/CEO, Dr. Nathaniel J. Williams came to the agency. The agency changed its name to Foundation for Progressive Living and later to Spectrum Community Services, Inc. (SCS). The agency has grown under the leadership of Dr. Williams and now operates both community homes in Berks, Carbon, and Philadelphia counties and lifesharing homes in those counties as well as Luzerne, Schuylkill, Monroe, and Pike counties. Supported living is offered in Carbon and Williamsport counties.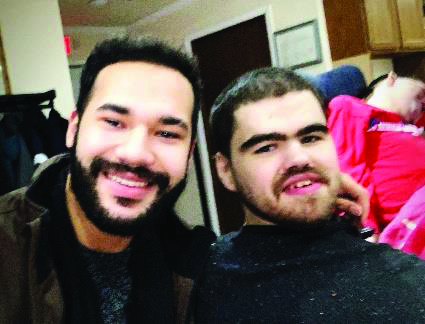 SPOTLIGHT
MEET MICHAEL
Michael came to Spectrum Community Services-CMP from White Haven center in 2007 and it's been quite a ride ever since. The easy-going, Pokémon loving Michael we all know and love has not always been this way; it took a lot of hard work and dedication from Michael and his team. When Michael first came to CMP, he was on 48 units of insulin throughout the day. Now he is only on 12 units! Additionally, he has lost over 100 pounds by making healthier food choices such as kale, fish, spinach, and broccoli. Michael used to eat all his meals slouched down using only a spoon but has since learned to use other utensils appropriate for the meal he is eating. Michael now chooses to go out into the community and engage with his peers. Through the change in behaviors in all aspects of Michael's life, he is a much healthier and happier individual!