PBS39 Coverage on Spectrum Encouragement Day
2019 CMP Holiday Celebration
2019 Phoenix Services Holiday Celebration
---
New service location opening March-2016. Now Hiring Direct Support Professionals for Perkiomenville, PA area.
---
October 2014 was proclaimed Lifesharing Month in the Commonwealth of PA. One of the SCS lifesharing families received the Excellence in Lifesharing award.
December 12, 2019 – Miller's Ale House FundraiserWe are working with Miller's Ale House, 913 Airport Center Road in Allentown, for a Give Back Event on Thursday, December 12, 2019. Miller's Ale House will donate 20% of all food sales from anyone who shows the attached flyer, either printed out or on their mobile device, to their server! Hours included are lunchtime 11am-2pm, and dinnertime 5pm-8pm. The food is amazing, the atmosphere is comfortable and family-friendly, and this is for a great cause that will help a part of our community that is often forgotten.
Why not take a well-deserved break from holiday shopping, have a bite to eat, and support a well-deserved group of people.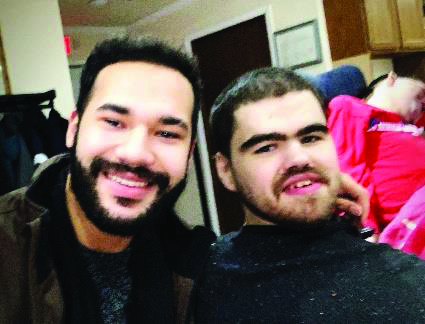 SPOTLIGHT
MEET MICHAEL
Michael came to Spectrum Community Services-CMP from White Haven center in 2007 and it's been quite a ride ever since. The easy-going, Pokémon loving Michael we all know and love has not always been this way; it took a lot of hard work and dedication from Michael and his team. When Michael first came to CMP, he was on 48 units of insulin throughout the day. Now he is only on 12 units! Additionally, he has lost over 100 pounds by making healthier food choices such as kale, fish, spinach, and broccoli. Michael used to eat all his meals slouched down using only a spoon but has since learned to use other utensils appropriate for the meal he is eating. Michael now chooses to go out into the community and engage with his peers. Through the change in behaviors in all aspects of Michael's life, he is a much healthier and happier individual!