Lifesharing Through Family Living
Lifesharing offers individuals with intellectual/developmental and other disabilities the opportunity to live and share life experiences with a family or individual who chooses to open their home and hearts.
The "Life Sharer" helps to enrich an individual's life by providing them with a family environment while helping them reach their full potential. The Life Sharer benefits by having a new friend or companion as well as being rewarded by the unique gifts and talents the individual brings to the relationship.
The individual benefits by receiving individual support for his/her desires, and needs for everyday life. The individual gets to be a part of a caring household and build loving relationships. The Life Sharers receive support from Spectrum Community Services, Inc. as well as a non-taxable stipend.
Potential Lifesharing families are screened and receive training to ensure compatible matches and ongoing stability. Spectrum Community Services provides ongoing support to the individuals and families we serve.
The mission of Lifesharing with Spectrum Services is to provide quality and individually based services to individuals with intellectual/developmental and other disabilities. Our goal is to help each individual reach their potential. We are committed to helping people connect their lives through Lifesharing. Through our agency, we provide the care, support, and help necessary to enable individuals with intellectual/developmental and other disabilities to find happiness, live their dreams, and achieve their aspirations along with encouraging community integration and maintaining biological family contacts.
Spectrum Community Services actively supports the dreams and aspirations of the people we serve. Our educated staff and well trained Family Living Providers are encouraged to be creative and innovative in developing supports for the individuals we serve.
How To Become a Life Sharing Provider
To become a Family Living Provider, you must
Be willing to open your heart and home to an individual with intellectual/developmental and other disabilities, being sensitive to their needs.
Provide adequate living space and transportation to meet the individual's needs.
Be willing and open to working with the agency and other professionals.
Meet licensing requirements such as background checks, physicals, training, and other requirements for your home.
Be willing to have an individual with you for many years, or until they or the provider passes away.
To fill out a Lifesharing application, click here.
Substitute Care
Substitute Care gives life sharing provider families the opportunity to receive a break from the everyday routine that caring for a disabled person can create. Individuals are cared for by other family living providers, in a community group home, or with a private respite care provider.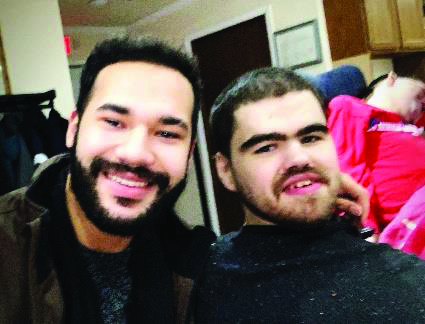 SPOTLIGHT
MEET MICHAEL
Michael came to Spectrum Community Services-CMP from White Haven center in 2007 and it's been quite a ride ever since. The easy-going, Pokémon loving Michael we all know and love has not always been this way; it took a lot of hard work and dedication from Michael and his team. When Michael first came to CMP, he was on 48 units of insulin throughout the day. Now he is only on 12 units! Additionally, he has lost over 100 pounds by making healthier food choices such as kale, fish, spinach, and broccoli. Michael used to eat all his meals slouched down using only a spoon but has since learned to use other utensils appropriate for the meal he is eating. Michael now chooses to go out into the community and engage with his peers. Through the change in behaviors in all aspects of Michael's life, he is a much healthier and happier individual!