Community Group Homes
The Community Group Homes are homes, located in rural and/or suburban areas, which provide opportunities for individuals to experience the "hominess", as well as, the responsibilities of family living — preparing meals, cleaning, doing their laundry, taking care of their own hygiene, based on the belief that every individual has the ability to assist in his/her own unique way. Individuals have the opportunity to enjoy a variety of home and community activities determined by their individual likes and dislikes. Individuals are also encouraged to attend day services, senior services, educational classes, and/or employment opportunities to experience the "regular rhythm and routine of life". Transportation is provided for all activities. Families are welcomed and encouraged to visit and participate.
Our staff is dedicated to enhancing and enriching the lives of the individuals they serve. All staff has received extensive training including CPR/First Aid, medication administration, behavior management, as well as, additional specialized training on the medical/behavioral needs of each individual for which they are responsible.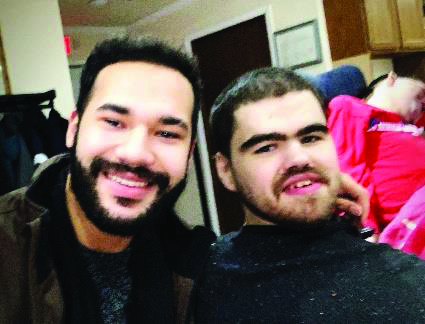 SPOTLIGHT
MEET MICHAEL
Michael came to Spectrum Community Services-CMP from White Haven center in 2007 and it's been quite a ride ever since. The easy-going, Pokémon loving Michael we all know and love has not always been this way; it took a lot of hard work and dedication from Michael and his team. When Michael first came to CMP, he was on 48 units of insulin throughout the day. Now he is only on 12 units! Additionally, he has lost over 100 pounds by making healthier food choices such as kale, fish, spinach, and broccoli. Michael used to eat all his meals slouched down using only a spoon but has since learned to use other utensils appropriate for the meal he is eating. Michael now chooses to go out into the community and engage with his peers. Through the change in behaviors in all aspects of Michael's life, he is a much healthier and happier individual!