What We're Looking For?
Friendly, enthusiastic candidates who want to support dreams; not the bottom line
Candidates with a high school diploma or equivalent
Candidates with a valid, insurable driver's license
Reliable candidates who want to work alongside individuals with intellectual disabilities
Dependable people the individuals at Spectrum Community Services, Inc. support w can count on
---
What Do We Offer? Other than a great place to work with AWESOME people?
Competitive Salary
New Hires receive comprehensive paid training
Ongoing training curriculum for personal and professional growth
Medical and Dental benefits
401K with employer match
Generous PTO package
Employer paid Life Insurance
---
Frequently Asked Questions
What are the qualifications to become an Engagement & Opportunities Professional? 
A high school diploma or GED, one year of experience working directly with adults in a group, community, educational, or institutional setting and at least 18 years of age.
License Requirement 
All positions require a valid motor vehicle driver license.
What is the hiring process? 
Applications to become an Engagement & Opportunities Professional are being accepted on a continuous basis. Applicants who meet the qualifications are asked to attend one of our All Staff meetings to gain better insight about the position.
What if I have a criminal record? 
Having a criminal history does not exclude you from being considered for employment as an Engagement & Opportunities Professional unless your convictions are directly related to the job or pose a risk or are among those specified in legislation as disqualifying for this employment such as:
(1) Older Adults Protective Services Act (OAPSA) Act 169a. An offense under one or more of the following provisions of 18 Pa.C.S (relating to crimes and offenses):
(2) A Federal or out of State offense similar in nature to those crimes listed above.
What kind of training will I receive?
Engagement & Opportunities Professionals receive both classroom and hands on training at the start of their employment to prepare you with the tools needed to help you succeed. Our trainers provide pre-service training on important topics, such as Introduction of intellectual disabilities, Fire Safety, CPR/First aid, Infection prevention and control, non-violent crisis intervention, and safe transport of individuals with disabilities. In-service training is provided throughout the year to support professional development.
Where will I work?
Based upon the region you have applied to you can be placed in any one of our group homes in that region.
What hours does an Engagement & Opportunities Professional work?
Spectrum Community Services operates 24 hours a day, seven days a week. You will be assigned to one of the following shifts: 8 am to 4 pm, 4 pm to 12 am, or 12 am to 8 am. Shift assignments are based on what is available. Schedules based on the needs of the individuals.
Do I have to work on weekends and holidays?
Yes, most Engagement & Opportunities Professionals work weekends and holidays this is all determined by the days and shifts assigned during the pre-employment phase.
Is there overtime?
Yes, there is overtime in the event that someone does not show up for a shift you will be required to stay and cover.
What is a typical day like?
This is not a desk job. You are required to provide regular interaction with the clients. For instance, a typical day might involve, cooking food, cleaning the home, bathing the clients, feeding clients meals, administering medications, driving clients to and from appointments.
Will there be any promotional opportunities once I become an Engagement & Opportunities Professional?
Promotional opportunities to a supervisory position are a possibility.
We are currently accepting applications for the following positions:
View all of our current job openings in just one click!
---
If you prefer to apply offline, print and complete the application and return it to:
Human Resources
Spectrum Community Services, Inc.
7310 Tilghman Street
Suite 300
Bethlehem, PA 18106
Phone: (484) 460-1931
Fax: (484) 365-2662
Click here to download an application
To print copies of our applications you must have Acrobat Reader. If you do not have Adobe Reader software, click here to download the free software from Adobe's Official Web Site.
---
The Saskatchewan Association of Rehabilitation Centres provides services and supports to the Agencies that serve people with disabilities. They have produced this short video to give you an idea of what it is like to be an Engagement & Opportunities Professional!
---
 Like Us on Facebook!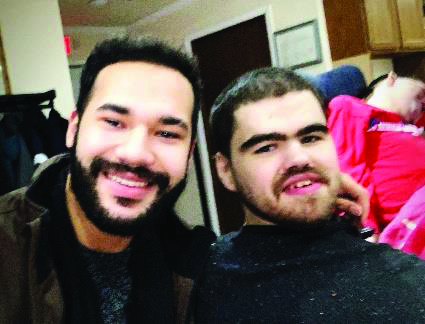 SPOTLIGHT
MEET MICHAEL
Michael came to Spectrum Community Services-CMP from White Haven center in 2007 and it's been quite a ride ever since. The easy-going, Pokémon loving Michael we all know and love has not always been this way; it took a lot of hard work and dedication from Michael and his team. When Michael first came to CMP, he was on 48 units of insulin throughout the day. Now he is only on 12 units! Additionally, he has lost over 100 pounds by making healthier food choices such as kale, fish, spinach, and broccoli. Michael used to eat all his meals slouched down using only a spoon but has since learned to use other utensils appropriate for the meal he is eating. Michael now chooses to go out into the community and engage with his peers. Through the change in behaviors in all aspects of Michael's life, he is a much healthier and happier individual!