Dear Community:
The past few weeks have been uncertain and difficult, and we hope you and your loved ones are healthy and safe. Our hearts go out to all those impacted by COVID-19, the victims, as well as all their family and friends.  We are working diligently to honor our commitment to support the individuals we serve.  Our staff admirably continues to provide supports and services throughout this trying period.
We continue to closely monitor expert guidance, including from the Centers for Disease Control and Prevention (CDC) and the World Health Organization (WHO). We have implemented measures to help prevent the spread of the virus, including asking employees to work from home and implementing social distancing and infection mitigation and control best practices.
We believe in the power and resilience of the human spirit to help uplift one another, especially during trying times. As we move through this situation, please take care of yourself, your families, and your communities as we're all in this together.  We will continue to do the same for the individuals we support and our employees.
Sincerely,


Nathaniel J. Williams, LSW, DSW, Ed.D., MBA, MPA, MHS
President and Chief Executive Officer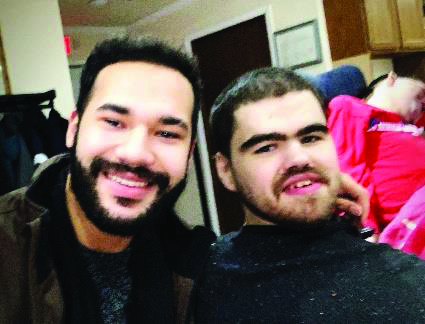 SPOTLIGHT
MEET MICHAEL
Michael came to Spectrum Community Services-CMP from White Haven center in 2007 and it's been quite a ride ever since. The easy-going, Pokémon loving Michael we all know and love has not always been this way; it took a lot of hard work and dedication from Michael and his team. When Michael first came to CMP, he was on 48 units of insulin throughout the day. Now he is only on 12 units! Additionally, he has lost over 100 pounds by making healthier food choices such as kale, fish, spinach, and broccoli. Michael used to eat all his meals slouched down using only a spoon but has since learned to use other utensils appropriate for the meal he is eating. Michael now chooses to go out into the community and engage with his peers. Through the change in behaviors in all aspects of Michael's life, he is a much healthier and happier individual!